Biographical and Genealogical information of George Gorton II's grandparents
William Buffham: November 20, 1801 - June 17, 1871
Eliza Buffham: July 8, 1801 - June 14, 1897
The passenger manifest for the ship Constellation, out of Liverpool, Oct. 2, 1850 arriving at the port of New York shows the following people were on said ship (and their ages):

| | |
| --- | --- |
| Wm Buffham | 40 |
| Mrs. Buffham | 40 |
| Wm. Buffham | 18 |
| Anne Buffham | 17 |
| John Buffham | 15 |
| Eliza Buffham | 12 |
| George Buffham | 9 |
| King (Kirkpatrick) Buffham | 7 |
| George Gorton | 23 |
| Henry Gorton | 16 |
The ages are off by 10 years on on Wm. & Mrs. Buffham, and by a year for George Gorton.
This photo of Eliza was taken in 1896 or 1897: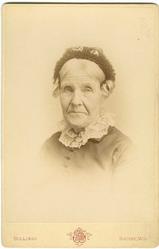 The handwriting on the back of the photo is that of her daughter, Lizzie. Here are the front and back of another copy of the same photo, only with George II's note on the back. (which is how the picture was dated to 1896/97)


Parents and family of William Buffham
[RWeb] lists the following data about William Buffham: parents were William Buffham, a cabinet maker, and Ann Sharpe. They were married 28 July, 1799 in St. Ann Black-Friar, London. Their children:
Caroline Buffham - born 27 Aug, 1800 in St. Giles Cripplegate, London, and baptized 21 Sept. 1800 in St. Giles Cripplegate, London
William Buffham - born 20 Nov, 1801, London
Ann Buffham - born 18 July, 1804 in St. Giles Cripplegate, London, and baptized 5 Aug. 1804 in St. Giles Cripplegate, London
Isaac Buffham - born Apr, 1807 in St. Andrew By The Wardrobe, London and baptized 3 May, 1807 in St. Andrew By The Wardrobe, London
Parents and family of Eliza Kirkpatrick
[RWeb] lists the following about Ann Elizabeth Kirkpatrick ("Eliza"): father was Robert Kirkpatrick; mother Hannah.
William Buffham and Eliza Kirkpatrick Buffham
William Buffham was born in London, England in November, 1801. At age 12, his father died, and William quit school and took various jobs in order to help the family. His mother's family (Ann Sharpe) was active in various social reform movements [Dretske]. Ann Elizabeth ('Eliza') Kirkpatrick was born in July, 1801 in York, England to Robert and Hannah Kirkpatrick. Sometime around 1820 [Bgene], William relocated to Rochdale, England (about 10 miles N-NE of Manchester), and presumably prospered there, and "was friendly with physicians and school teachers, who gathered at his home each week to read aloud and discuss the works of such authors as Jonathan Swift and Herbert Spencer" [Dretske]. [RWeb] lists an occupation of "Painter and Gilder" with an address of 10 & 11 Spring Gardens by Yorkshire St; Township of Wardleworth, Rochdale. The 1841 Pigot's Directory of Lancashire also lists Spring Gardens as his residence. Sometime around 1825, William built an engraving machine for the British government for producing medallions, including this piece listed in a gorton machine catalog from 1925 The original rosewood piece is currently part of the Lake County Discovery Museum's collection of Buffham artifacts (not currently on display there, though). As a partial confirmation effort, this author acquired a recent collection of "Medals dedicated to the Coronations of Russian Emperors" from The Hermitage Museum. The [scanned picture of the] rosewood copy is very close to the modern copy, but not quite identical. The bridge of the nose is a little different, possibly due to die wear. The sideburns on the modern copy are definitely worn more than on the original and there is a name on the base of the neck of the modern copy which doesn't look like it appears on the rosewood version. This might be the name of the sculptor.
In 1827, in Rochdale, William married Eliza. They raised 6 children:
William Sharpe: July 1830 - Jan 1917
Ann: Oct 1832 - Oct 1862
John: Feb 1835 - Aug 1904
Elizabeth: Apr 1838 - Apr 1914
George: Nov 1840 - Mar 1911
Kirkpatrick: Feb 1844 - Dec 1895
From [Dretske], we know that he made optical instruments as early as 1842, and he continued to do so throughout the remainder of his life. In October 1850, William emigrated from Rochdale to Millburn, (Lake county, IL) with his family (six children), $12,000, and a lathe. An 1861 property map of the area shows the location of the property: upper left hand corner, highlighted, and mis-spelled. William was one of a small number of people in America who made telescopes and microscopes at the time; the Lake county discovery museum (Wauconda, IL) has one of each of these. The museum also has a number of [microscope] slides which he brought with him to Millburn.
Records indicate that William made a microscope for Philo Hoy, a Racine, WI, naturalist and pioneer which is recorded as being given to the Wisconsin State Historical Society, but lost. The Philo Hoy exhibit in the Racine Heritage Museum has a microscope in it which might be a Buffham microscope (the lost one?).
In 1867 (possibly late 1866), William and Eliza were entrusted with the care of their [toddler] grandson George Gorton II, when their daughter Elizabeth, her husband, George Gorton I, and his older children travelled to Douglas on the Isle of Mann, to purchase a residence there. After about a year, Elizabeth and George I moved back to Racine and set up a paint shop with William Sharpe Buffham (William and Eliza's eldest child); William and Eliza relocated to Racine soon after this. A business card still exists:
The front:



The back:


some of their personal posessions
Various of William and Eliza's personal artifacts have survived, including Eliza's bible, William's watch, and a painting by William.
William's watch:
According to a horologist who specializes in clocks from 1700-1940, this watch is a plain-posted verge fusee watch, probably of french manufacture, circa 1830-1840. There is a hallmark of "BS" on the inside. It has gilded movement (an acid based process), and was clearly used as an every-day item based upon the gilding rubbing off. It was given by Eliza Buffham to George Gorton II in 1895, and subsequently to Charles Gorton on Dec. 25, 1936 as a christmas present.






Eliza's bible:
An 1848 date inside, presumably when she acquired it, given to George Gorton II in 1878, subsequently to Charles & Dotty Gorton at christmas, 1936.



| | |
| --- | --- |
| | |

Both William and Eliza died and are buried in Mound Cemetery in Racine, WI. in Block 17, Lot #3 (an obelisk).



Various photos of William Buffham and relevant artifacts
These are photos of content at the Lake County Discovery Museum, Lake County, Illinois.
A photo of the exhibit at the lake county museum; the background is an enlargement of one of his microscope slides, with a picture of the slide case below.


Copyright, 2004 - 2015 Richard Gorton - rcgorton@verizon.net
Please contact me if you wish to use images or content herein